Sock marathon knitting....
Topic: quick projects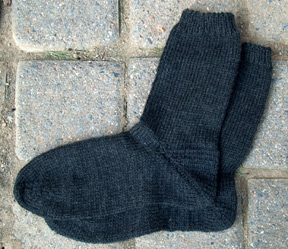 It's that time of year again. Three consecutive cool mornings had me reaching for socks and wool clogs. Granted, they were cotton socks, but I KNOW what lies ahead.
I had this irresistible urge to own new charcoal handknit socks. I auditioned a few yarns, but Cascade 220 won hands down for its softness and spring. Since the heels in this stuff do wear out, I added silk/wool fingering yarn to the heels, where I generally wear thin and open a few holes by year two. I wear wool clogs all winter, so the thicker yarn works well and is warmer on snowy mornings.
So, now I'm good for 3 years, at least, with this pair.
I have this thing about nylon in socks. I hate wearing socks made with nylon reinforced yarn as they cause my feet to sweat. But nylon DOES help sock yarns wear longer. I also don't enjoy wearing yarns that have been superwash treated, as they simply aren't as warm as the untreated ones. (This is actually a bonus for wearing wool indoors in our heated environments!) So, I have scoured the yarn world for a sock reinforcing yarn to add to untreated natural fiber yarns for my socks. The answer (and there are two):
100% adult mohair spun LACE WEIGHT thin. This is only available as handspun as far as I have been able to find.
50silk/50wool laceweight yarn. YES! This I have been able to find and now am stocking in a few colors for those as driven as I am about this issue.
So, I add this stuff to heels and enjoy many years of wear before I have to repair them.
I thought I was done for a while, but THEN, on a yarn browsing trip with Marie and Char, I happened across Ultra Alpaca Light and fell in love with the stuff. "SOCKS!" they screamed at me. And I listened. The heather colors are gorgeous, the yarn is inexpensive, and here, at last, is a sport weight version of a good no-nylon sock yarn. Alpaca is WAY warmer than wool, and the combo seems perfect. (I own 100% alpaca socks and adore them, but they are on the thick side like the Cascade 220 socks, and although I adore their silky texture and warmth, they do stretch out from lack of elasticity.)
So, I got in touch with my suppliers and made the plunge. Into the shop yesterday arrived a HUGE box with the first 7 colors. On my needles, the first sock is almost done:
I will post a better picture when they are both finished, but I couldn't resist showing the gorgeous purple heather color next to fall oranges and greens. I am totally enjoying myself with this yarn. I am knitting on US #2's and #3's and getting 6 sts=1". I would love a finely knit sweater in this yarn. My head is full of plans!
Posted by countrywool at 9:15 AM EDT